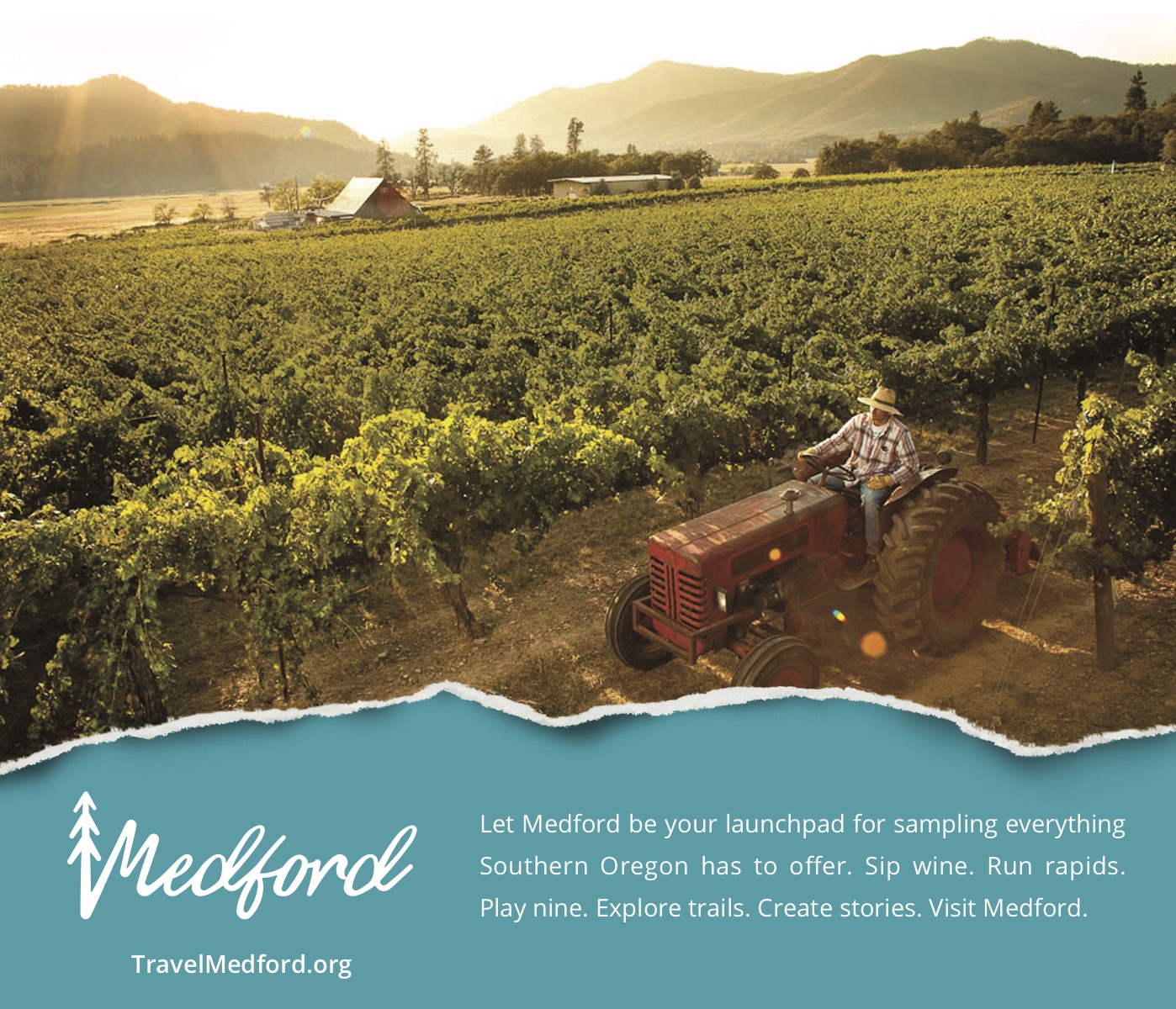 Just north of the California border sits a gem for wine lovers and connoisseurs alike. The Rogue Valley.
The Rogue Valley's unique combination of warm seasonal temperatures, diverse geology and prevailing coastal winds create an astonishing array of microclimates that not only produce a wide range of grape varietals but have also become home to a group of world-class vintners and growers, passionately dedicated to their craft and to this region. Together, they have produced a growing collection of award-winning, internationally-recognized wines that make the Rogue Valley an affordable stop-and-savor destination for all.
It's a reputation that has been growing in remarkable ways over the last decade and Rogue Valley vintners have taken their place among the notable wineries of Oregon, and the nation. While Oregon produces only one percent of the nation's fine wines, their wineries hold an impressive twenty percent of WineSpectator's 90+ scores for domestic wine.* With one hundred and fifty microclimates sitting within a region bounded by four rivers and three major mountain ranges, Rogue Valley vintners are sitting at the heart of artisan wine production and possibility.
No matter which direction you choose to explore from the Rogue Valley's hub city, Medford, there is a distinctive experience waiting in the area's tasting rooms and vineyards, each as unique as the wines they produce.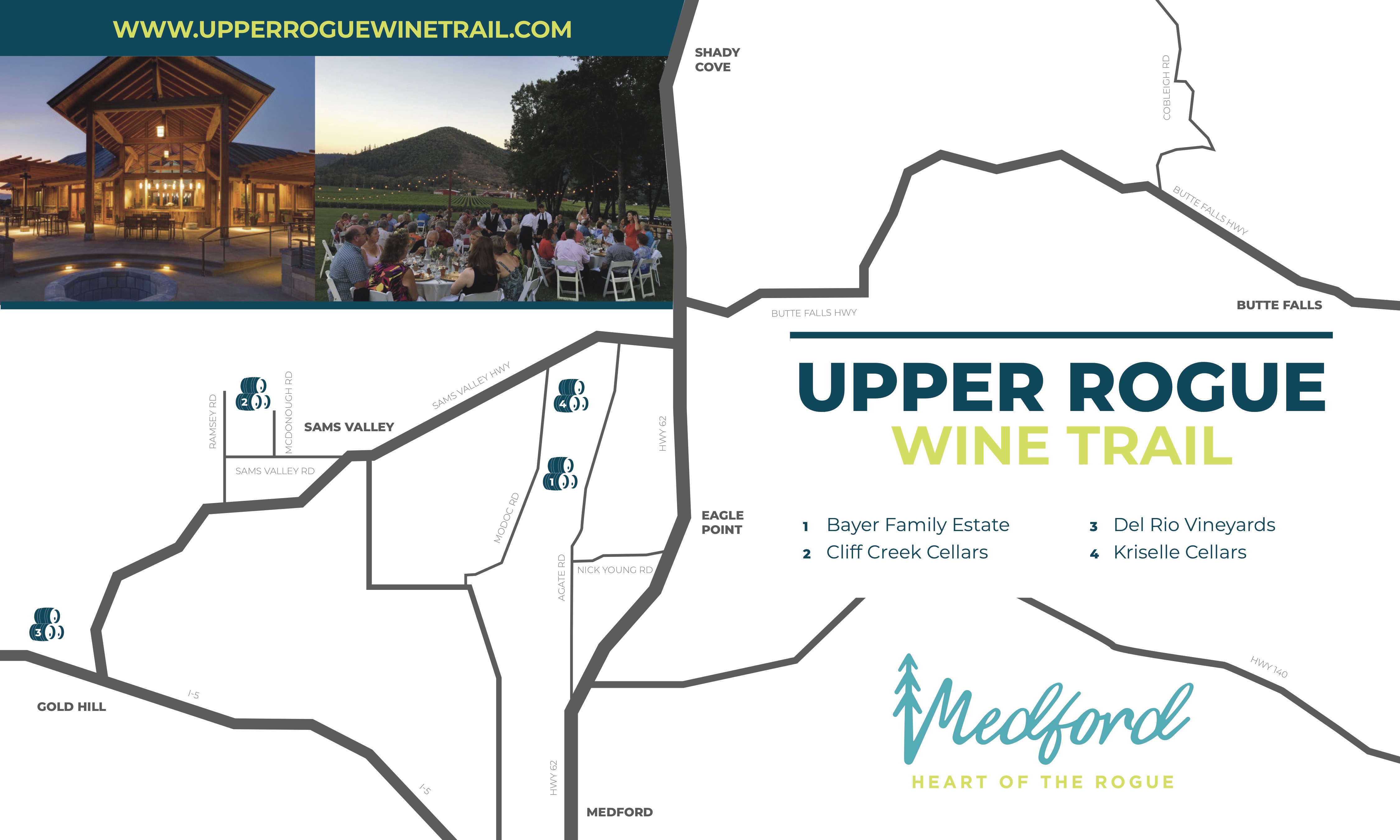 Upper Rogue Wine Trail
Heading north, and then east towards the Table Rocks, the Upper Rogue Wine Trail follows the beautiful and rugged Upper Rogue River region. Along with exceptional wines, this group of family-founded wineries offers self-guided tours, tasty gourmet pairing events and regional insight into local viticulture. The rolling countryside and breathtaking scenery provide an unparalleled setting for some of the valley's most expansive growing zones.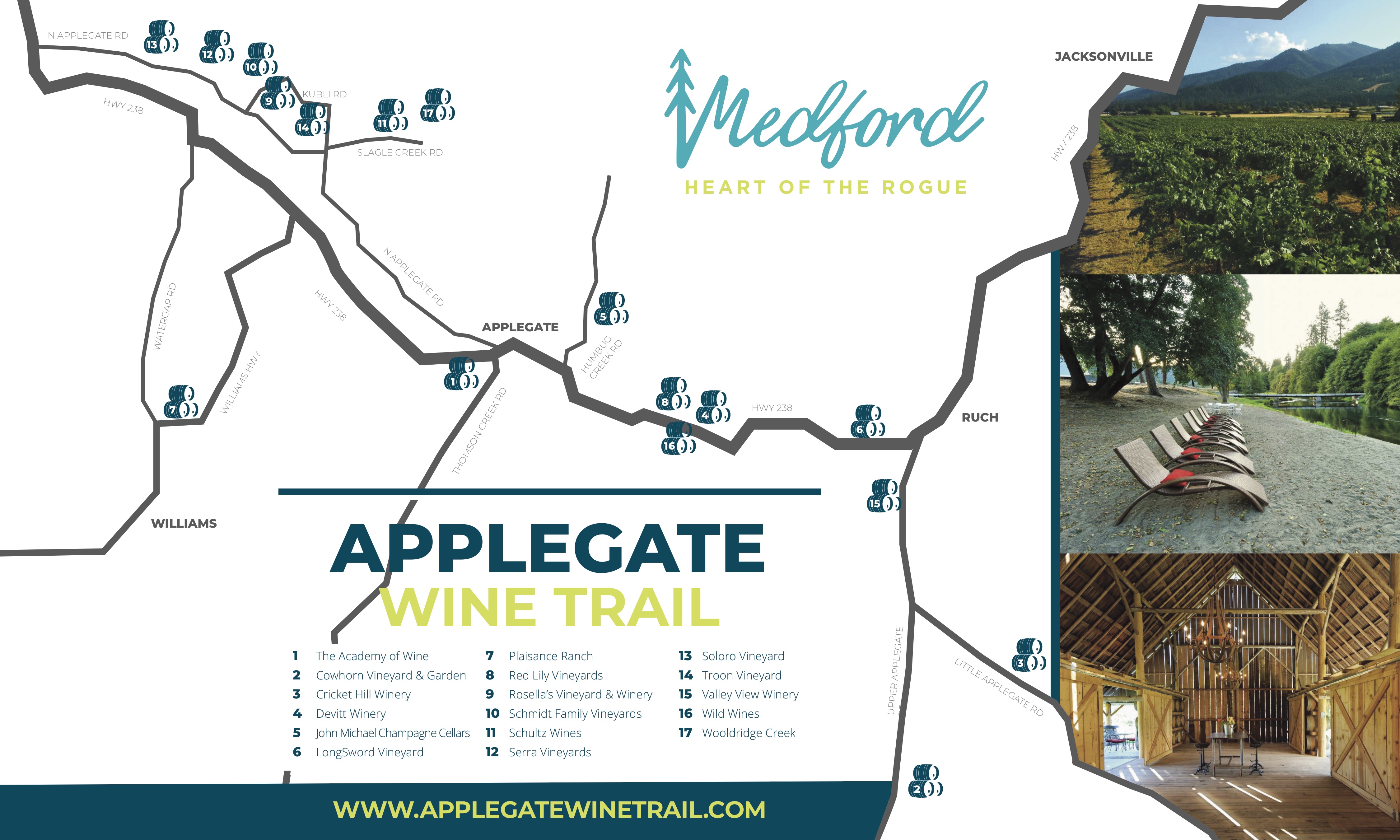 Applegate Wine Trail
To the southeast, the Applegate Wine Trail travels country roads through almost two dozen wineries that skirt the hills around historic Jacksonville from Ruch to Grants Pass. The unique range of growing conditions at each winery produces both a well-rounded crop of varietals and an engaging selection of both reds and whites that pay tribute to the Applegate's diversity.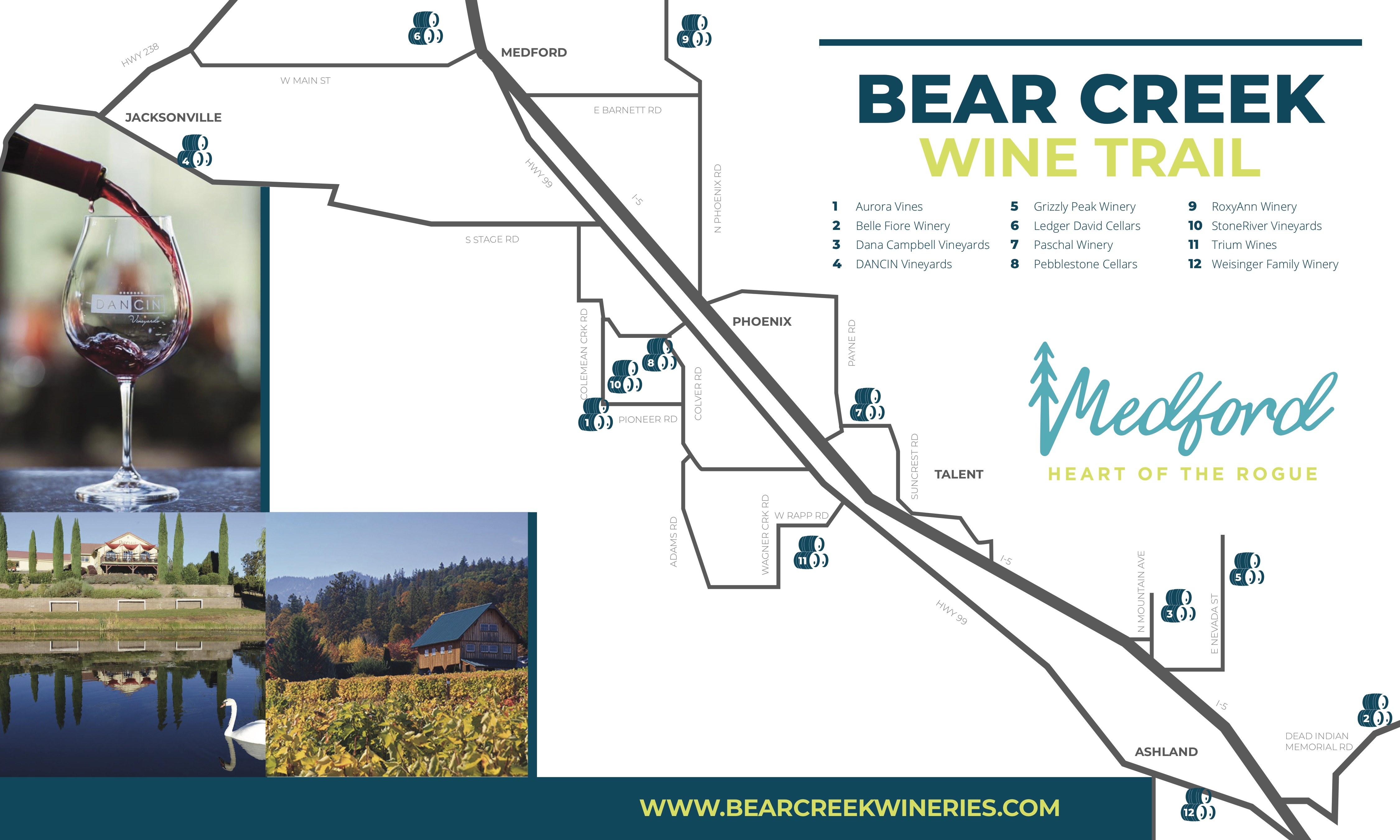 Bear Creek Wine Trail
In a more southerly trajectory, the Bear Creek Wine Trail frames the highway with estate wineries tucked in along the hills from Central Point to Ashland. The leisurely pace of the journey to each destination sits in contrast to the interstate rushing through, just as the welcoming atmospheres and offerings of each winery provide a respite for both travelers and locals to enjoy the area's wide range of cultural and natural attractions.
From well-established estate wineries to some of the latest up-and-comers in Oregon's blossoming wine industry, the Rogue Valley is home to an active and exciting viticulture industry that is taking its place not only locally but on the world stage. Fueled by a passion for great wines, and surrounded by natural beauty and cultural opportunities, the wines of Southern Oregon reflect the sun, soil and heart of our Rogue Valley vintners as they offer an exceptional experience that is well worth the trip.
Click this brochure for a handy little guide!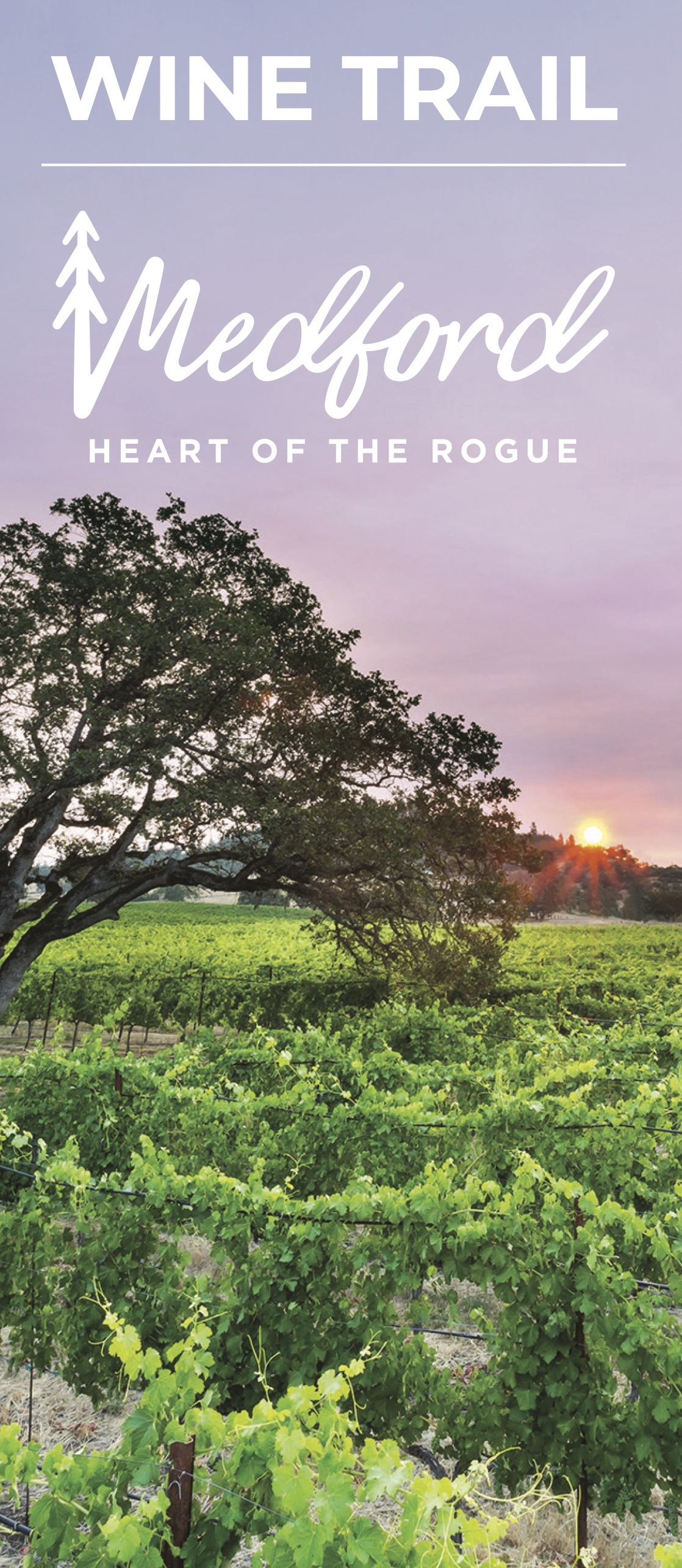 * https://www.oregonwine.org/wp-content/uploads/2017/11/Oregon-Wine-eBook.pdf