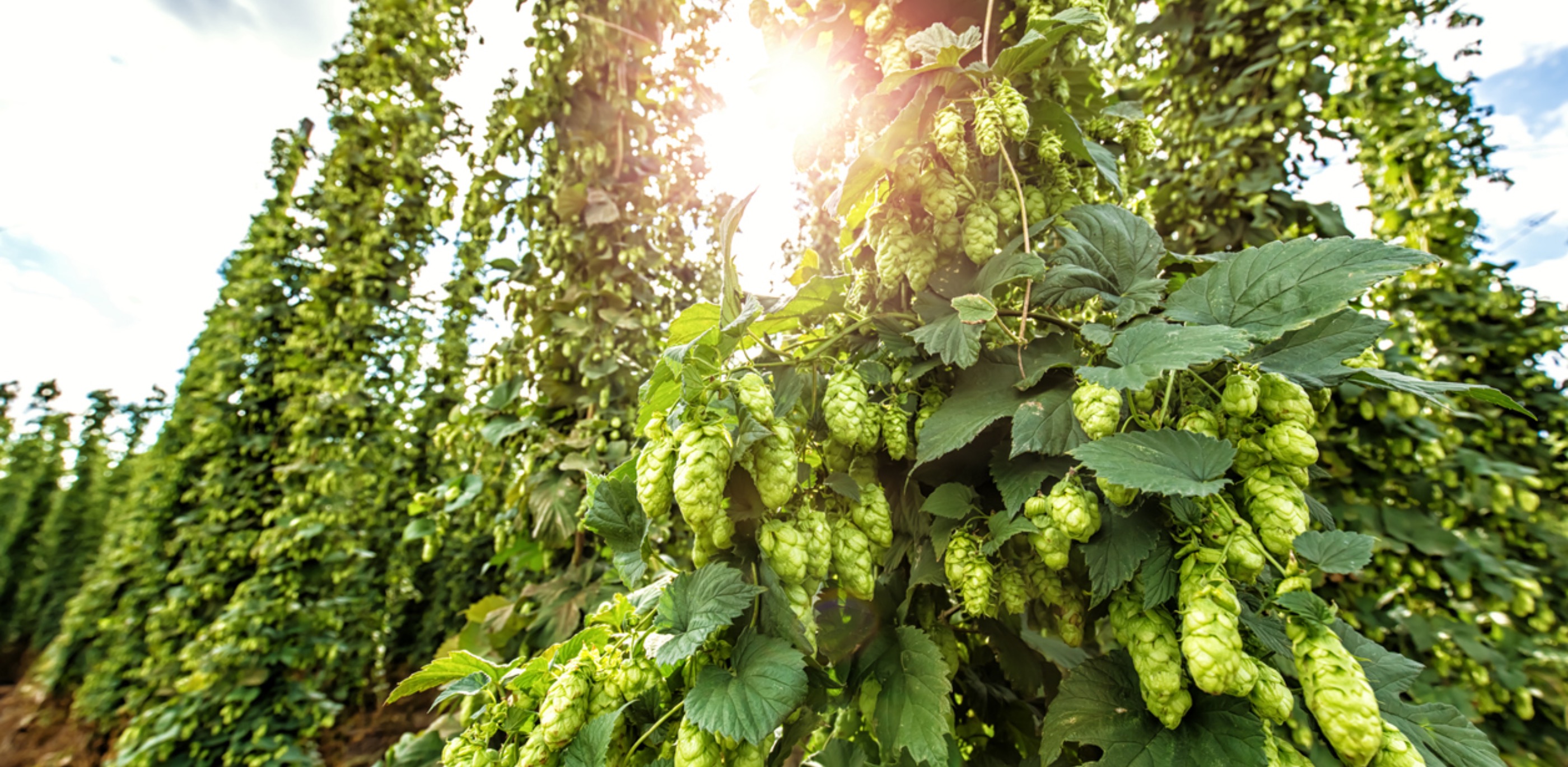 Farming has been a central part of the Medford lifestyle for over a century, and that tradition is alive and well today — from local produce, to wine, cheese, and of course, beer. Oregon has been a great location to grow hops for many years because of its unique climate and environment, leading to a booming craft beer industry and one of our favorite times of year -- Medford Beer Week!
How & Where To Spend The Best Beer Week Ever
11 days of live music, food, games and beer; no, this isn't a dream. Every day of Medford Beer Week, from June 6th-16th, invites you to visit local breweries and restaurants and partake in a variety of activities. Pick a day, pick a place, call your friends and celebrate Beer Week in true Medford fashion. If you come in as a stranger, we guarantee you'll leave as a friend. In addition to the refreshing libation that is its namesake, Medford Beer Week celebrates friendship, locally-sourced food and drink, and the people behind these awesome creations.
Ready for a sample? These are just a few of the things you'll do during Medford Beer Week:
- Skee Ball Tournament with 10 Barrel
- Trivia Night with Boneyard Brewing
- Drink and Draw Fathers Day Cards with Coldfire Brewing
- Video Games and Disc Golf Putt Putt
- Jumbo Jenga
- Southern Oregon Craft Brew Festival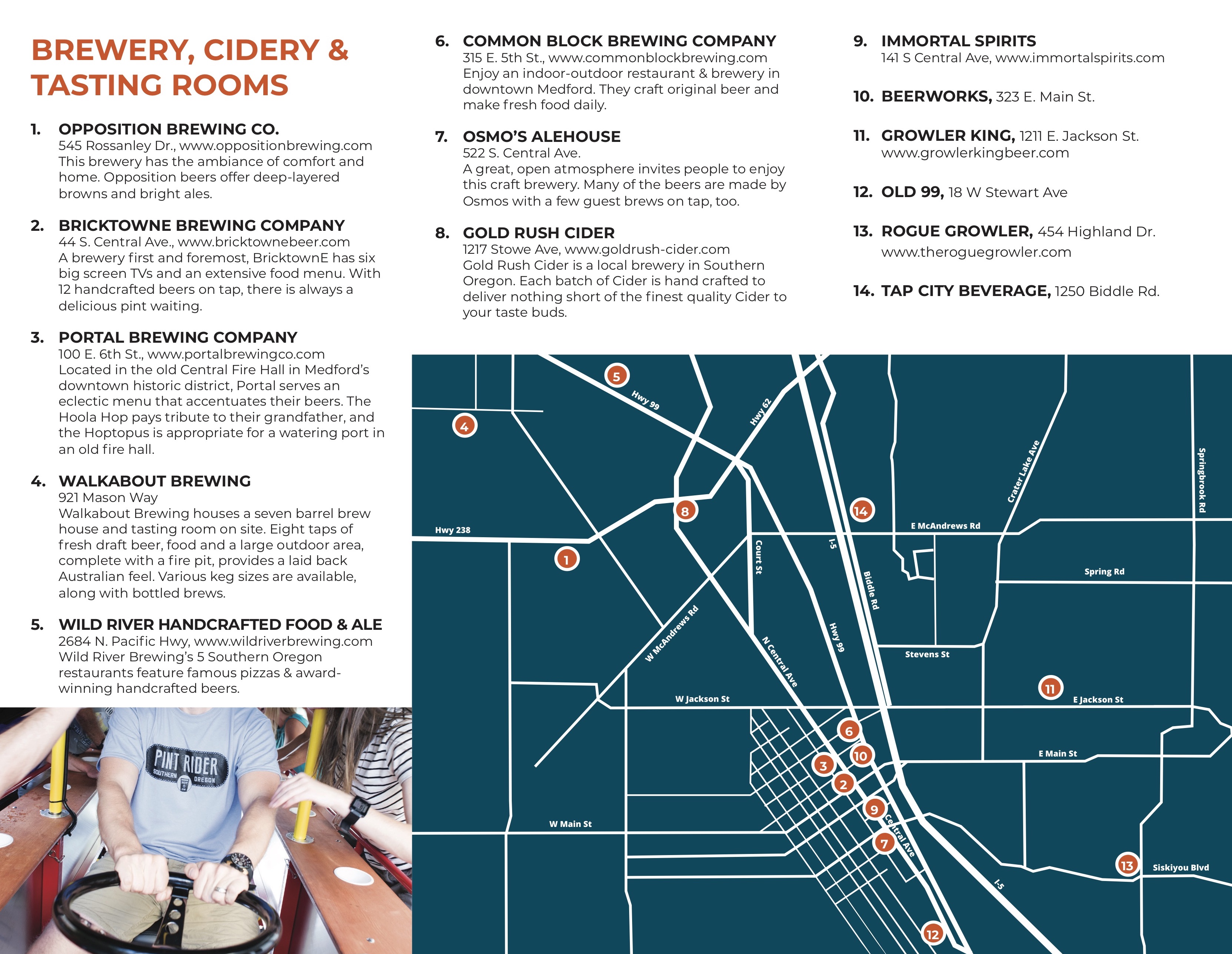 Not here for Beer Week? Enjoy an amazing craft beer at any (or all!) of these local hot spots year round.
Opposition Brewing
Looking for great beer and a fun night with family and friends? Then Opposition Brewing should be your first stop. Opposition Brewing has mastered the art of craft beer, and each one of their brews is simple, authentic and absolutely delicious. The next time you're in Medford, we encourage you to take their sage advice to "raise a pint and embrace the chaos!"
Must Try: Fallow Fields and Blast Radius
Common Block Brewing Company
Located in the heart of downtown Medford, Common Block is just steps away from shopping, art galleries, parks and a family-owned escape room. This modern, industrial-style brewery has an inviting atmosphere for guests of all ages. Common Block offers diners a variety of beers and hard ciders, with plenty of food options to accompany their drinks. There's also a cozy back patio where you can listen to summer concerts or people-watch while you munch on a cheesy pizza or juicy burger topped with local produce.
Must Try: The Common Block Pale Ale and Rogue Runner IPA
Portal Brewing
For a funky and enchanting beer-drinking experience, look no further than Portal Brewing. With its welcoming vibe, going to Portal is like visiting a friend's house. Fantastic artwork covers the walls and you can flip through books of sketches drawn by previous guests. Portal Brewing has 14 of their own brews on tap and a menu of tasty pub fare.
Must Try: Sunset Cream Ale and Riptide India Pale Ale
BricktownE Brewing
A staple of downtown Medford, you'll find unique brews and food at BricktownE Brewing. It's conveniently located across from the Craterian Theater, so head over to BricktownE after a show for a refreshing beer and great meal. BricktownE is always experimenting with new and exciting flavors, so stop in and try the latest creations from their amazing brewmaster.
Must Try: Whiskey Canyon Porter and the Table Rock Red Ale
Walkabout Brewing Company
When you have a hankering for local craft beer, food and fun, then Walkabout Brewing Company fits the bill. Their tasting room always offers their flagship brews, as well as seasonal batches and an ever-growing menu which includes nachos, stone-cooked pizza and much more! If you're looking for a fun night with friends, they also have live music, trivia, comedy and the occasional darts tournament. Or if you like to enjoy a drink at home, Walkabout sells kegs, bottles and growlers to go.
Must Try: Jabberwocky Ale and Platypus Porter
Pint Rider
Making 3 to 4 stops over the course of 2.5 hours, Pint Rider is the perfect party on wheels. This 15 passenger trolley bike is pedal powered by you and your group as you breeze through Downtown Medford onto the next brewery!
Medford invites you to enjoy a local small-batch beer at one of its many downtown breweries. But that's only the beginning of your journey. Discover the best of Oregon's craft beers at breweries located throughout Southern Oregon.