Hiking is one of the best ways to experience all that the Rogue Valley has to offer. From sky-high viewpoints to impressive waterfalls, there is a trail in the Rogue Valley for everyone.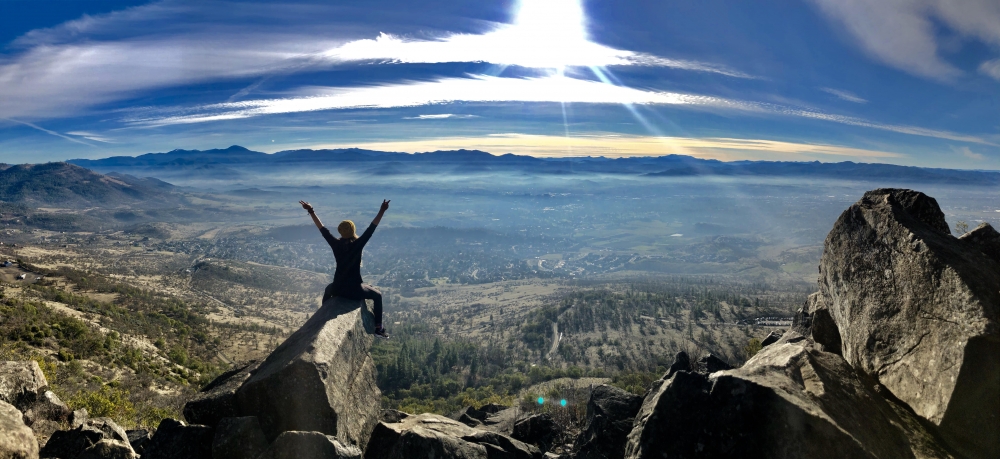 Prescott Park is must see in the Rogue Valley, especially if you're looking for a location nearby - it's located right in Medford. The primary geographical feature is Roxy Ann Peak, a landmark protruding 3,571 feet above sea level – about 2,000 feet above the Valley floor. With incredible vistas, Prescott Park is a popular spot for hikers and mountain bikers, alike. One of the most spectacular aspects of the Prescott Park Trail System is a 360-degree panorama of the Rogue Valley and surrounding mountains. Mt. Shasta can be seen looking south from the top of Roxy Ann Peak, with Mt. Ashland, the city of Medford, Table Rocks, the Three Sisters and Mt. McLoughlin visible as one rotates clockwise.
Many of Medford's hiking trails are family-friendly but still offer a challenge for experienced hikers. No Southern Oregon trail is more well-known than the Table Rocks. With two parts — the Upper and Lower Table Rock — this year-round natural attraction is visited by over 10,000 people annually. The views from the top of these conveniently positioned volcanic plateaus give you all the angles for your best photos. With not much shade available, early spring is the best time to enjoy the cool weather with the sun shining overhead. This hike is great for families and groups, but keep in mind that Upper Table Rock is a longer and easier climb, while Lower Table Rock is a steeper, slightly more difficult climb. Protected icons, both Table Rock hikes are extremely rewarding and breathtaking, however, leave your dog behind as they are not allowed.
If you want to make a day of visiting the Table Rocks, take a trip to the TouVelle State Recreation area. Located near the Rogue River and at the bottom of the Table Rocks, it's the perfect area for family picnics. The 58-acre park is brimming with trails and opportunities for a spontaneous fishing trip.

Oregon also has many beautiful state and national parks, but none so alluring as Oregon's only national park located in the heart of Southern Oregon - Crater Lake. With stunning blue water, sheer cliffs and a volcanic history, Crater Lake is the deepest lake in North America - more than a mile in depth. It's truly the experience of a lifetime. Not only, is there the drive-up and view option, but there are hiking trails all around the lake, The rim drive gives you access to multiple mini hikes to waterfalls, unique viewpoints, grand landscapes and incredible flora and fauna.
Check out our website for a more in-depth dive into your next hiking experience - www.travelmedford.org/hiking-biking