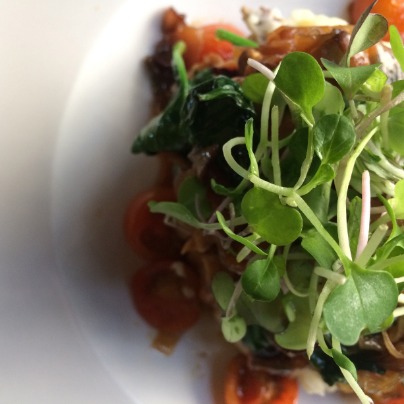 Sunday is the day of rest.
And the day for brunch!
Medford knows how to do brunch. There are many eclectic, local brunch spots in and around Medford and the Rogue Valley. How will you choose?
Whether you crave a refreshing mimosa, buttery pastries, fluffy pancakes or anything topped with a fried egg, Medford's restaurants will satisfy your every brunch desire.
Pastry Heaven at Buttercloud Bakery
In addition to their regular menu, Buttercloud Bakery offers new, seasonal desserts every month. The flavors highlight the time of year and showcase the fresh, bountiful produce grown right here in the Rogue Valley.
All of the bakery's food is made from scratch, using as many local ingredients as possible. If you're there for breakfast or an early brunch, the biscuit sandwiches are out of this world, and served on their signature Buttercloud Biscuits. Light, airy and tender — anything you put between these biscuits tastes heavenly.
Buttercloud offers other brunch favorites, including biscuits and gravy, a breakfast salad, scones, sticky buns and so much more.
Brunch Over Easy
Hungry for more?
Over Easy is the only pop-up brunch restaurant in Southern Oregon! They take over Downtown Market Company every weekend and feature a menu of new, original items. Chef Braden Hitt is a culinary maestro, and creates four dishes each weekend — three savory and one sweet. Over Easy also offers beer and mimosas to complete your brunch experience.
While the menu changes every weekend, some of their greatest dishes were an Italian sausage and zucchini omelet, veggie frittata, and rosemary and orange zest buttermilk pancakes.
Simply mouthwatering.
Sunday Brunch at Bella Union
If brunch served with a glass of complimentary champagne or sparkling cider, beautifully baked muffins and coffee cake sounds enticing, then we'll see you at Bella Union! The restaurant has a variety of options, from eggs, to biscuits and gravy, omelettes, stuffed croissants and much more. There is also a kid's breakfast for the little brunch-lovers in your group.
The Bella Union in Jacksonville is the gateway to the Applegate Valley wine region and a scrumptious brunch. The relaxed atmosphere is great for brunch with the family or toasting a special occasion with friends.
Medford loves brunch. Whether you're here for a weekend, vacation or sojourn with your best pals, you must stop for brunch.
A few more brunch options in the Rogue Valley include:
- C Bistro
- Central Point Perk, 117 E. Pine Street, Central Point, 541-363-7353
Learn more at www.TravelMedford.org.