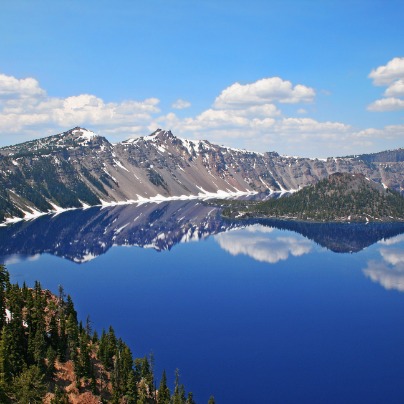 With sheer cliffs almost two thousand feet high, Crater Lake shares its thrilling story of a volcanic past with locals and visitors. It's the experience of a lifetime, unlike any other place in the world. And it's right here in Southern Oregon.
Crater Lake National Park is just over an hour's drive from Medford. Most people flock to this natural beauty in the summer, but fall is an awesome time to visit Crater Lake. The temperatures are mild and the stunningly blue water is surrounded by hues of gold, orange and red.
There's so much to do and see at Crater Lake, especially during the picturesque autumn season. These are only a few ideas to kick off your Crater Lake adventure. Try them all, or forge your own path!
Drive or Bike the Rim
The Rim Drive is 33 miles and circles the caldera's rim. Have your camera ready because there are amazing views at every turn. Exploring the beauty of the rim could take up to a full day, so pack a picnic and enjoy your meal against the natural backdrop of Crater Lake.
Phantom Ship Overlook
Phantom Ship is a small island which resembles a "ghost" pirate ship. It rises about 16 stories out of the water. Phantom Ship Overlook at Kerr Notch is one of the stops along the Rim Drive.
Waterfalls
Not many people know there are two waterfalls at Crater Lake: one is along the Rim Drive and the second accessible by hiking. Vidae Falls is a 100-foot waterfall that drops over a group of rocky ledges. It's located 3.1 miles east of the Park Headquarters on East Rim Drive.
To see Plaikni Falls, take the East Rim Drive to the Phantom Ship Overlook; you will find the trail head another mile south on Pinnacles Road. Then it's a 1-mile hike across Kerr Notch to see the waterfall.
Crater Lake inspires awe. Artists, photographers, visitors and scientists marvel at its beauty, purity and magnificence. Experience the glory of Crater Lake and share in an unforgettable autumn experience.