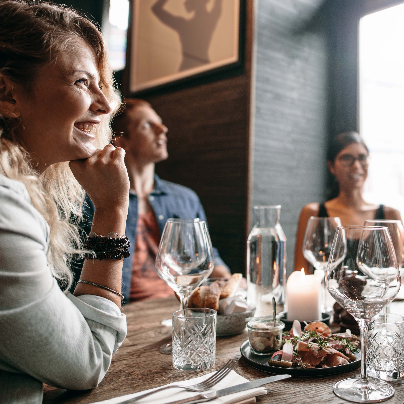 2017 has been a year filled with adventures. If you plan on celebrating the New Year in Medford, there's time for a few more escapades before the year ends.
Crisp, winter weather is perfect for daytime bike rides and hikes, or an afternoon golf outing with friends. Or if you're seeking to sip a refreshing white or full-bodied red, visit our wine tasting page to find the best Southern Oregon wineries.
If you want to spend New Year's Eve in Medford's urban downtown core, there are plenty of parties and events to keep you busy until the moment the ball drops. To satisfy your inner cowboy, a visit to the Rocky Tonk is a must. In addition to great food and drinks, there will be a champagne toast, balloon drop, Country Crossings giveaway and more.
Also, the local hotels are the one-stop-shop for all your New Year's Eve festivities, or the hub as you visit nearby restaurants and venues.
Inn at the Commons is hosting an Urban Midnight special to celebrate the New Year in style. Start the party at Larks restaurant and lounge, with live music from Danielle Kelly Jazz Trio, and fabulous culinary specials. And when the party ends, and 2018 has officially arrived? Return to your room for a relaxing, restful night. You'll also receive a bottle of sparkling wine, breakfast and a late checkout. There's no better way to start 2018 than sleeping in and waking up to a freshly made meal.
If you feel like hitting the local clubs, The Edge Nightclub is hosting a New Year's Eve bash, with an all-cash balloon drop at midnight. Rogue Regency Inn & Suites is also offering a special New Year's Eve package with party favors, champagne and music from a local DJ.
Medford is the epicenter for your New Year's Eve celebration. Gather with friends, reserve a table at your favorite restaurant and dance the night away to live music.
Interested in more Medford events? Find your adventure on our events page!