A sojourn to the Rogue Valley's wineries is the best way to spend your free time this fall. Whether you pack your bags for a weekend getaway, or plan a last minute day out, you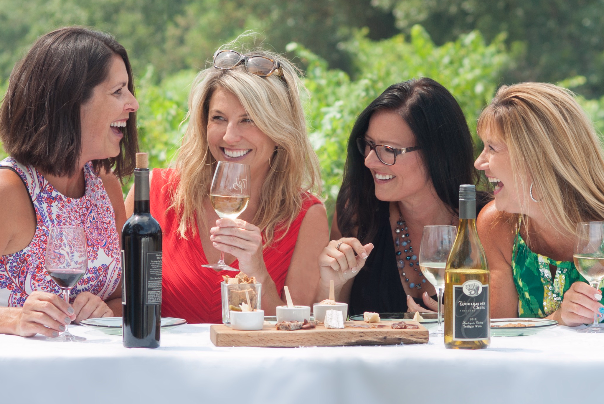 will find a vibrant and unique setting at each Southern Oregon winery you visit.
Elegant, balanced and richly textured wines are the cornerstone of Irvine & Roberts Family Vineyards in Ashland. Dynamic Pinot Noir and Chardonnay are the focus of the vineyard, and their attention to detail produces intensely flavorful wines.
If you could stand on the precipice of a tasting room and see brilliant autumnal colors, rolling hillsides, vines and blue skies from every direction, would you dare miss such an opportunity? Whether you relax on the outdoor patio, or cozy up with friends in the tasting room — with its touches of rustic and modern design, and towering walls of windows — your eyes will feast on infinite views in every direction.
Pebblestone Cellars is a family-owned vineyard which emanates love, joy and passion in all its wines. The new tasting room in Talent greets visitors warmly, and you feel like you're walking into a family home. A grandiose, cabin-like structure boasts the beauty of natural wood and showcases the art of true craftsmanship. There is plenty of room for you and your group to gather around, stretch out and explore.
Friendly staff awaits on the other side of the tasting room, where you can sample the vineyard's best wines. A variety of whites and reds are available for whatever your palate desires.
A Rogue Valley wine tour adventure isn't complete without a visit to EdenVale Winery. The winery is located on some of the oldest agricultural property in the Rogue Valley, on Eden Valley Orchards. All of the property is listed on the National Register of Historic Places, so when you enter EdenVale Winery, you become part of its history. Then make your way to the tasting room to experience their unique wines.
The beautiful historic gardens are just steps from the patio, and there's no experience comparable to sipping a glass of red or white while gazing at a living, breathing historical site. Families are encouraged to visit and welcomed by the staff. Whether you desire Merlot, Chardonnay, Tempranillo or another award-winning wine, EdenVale has a blend to satisfy your appetite.
Medford is the epicenter of your autumn wine excursion, as you venture to nearby places for a different experience at every winery. A spot of spontaneity is a must this season. Find your adventure as you travel through the Rogue Valley's many wineries.