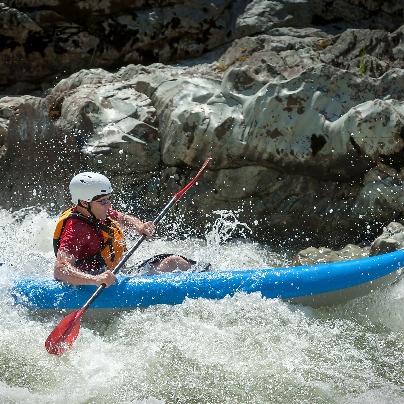 Is the river and rushing water your siren song? If so, then we'll see you at the 6th annual King of the Rogue — the best river event of the year!
Whether you participate in the race, spectate or stroll along the Riverwalk Marketplace, we invite you to spend August 18th on the river at the Gold Hill Whitewater Center.
As you make your way there, everything -- parking, the launch area, viewing, and the marketplace -- will be on Upper River Road (river left) side. Don't follow the signs to the Ti'lomikh Falls parking area, or you'll end up on the wrong side of the river!
So once you arrive, what does your day at King of the Rogue look like?
Watch and be amazed
Spectators will love to cheer on the racers and see every thrilling twist and turn. You won't miss a single rapid or wave as the action unfolds right before your eyes. It's an adrenaline rush and one-of-a-kind experience for lovers of outdoor sports and water adventures.
Fabulous Food Trucks
There's nothing better than enjoying a hot meal with the sounds and sights of the river in the distance. Food from Jan's Ohana, Wok Star, Victory Dogs and more will be on site to satisfy all your food cravings.
Riverwalk Marketplace
Your day at King of the Rogue wouldn't be complete without a shopping excursion. The Riverwalk Marketplace is a unique shopping opportunity for spectators. Some of the vendors include Gold Hill Community Development Organization, Sawyer's Station, Mary Kay with Mollie, Papa's Pottery, McDaneld Welding and many more!
Once the races end, find out who will reign as the new King and Queen of the Rogue at the awards ceremony.
King of the Rogue is a true Southern Oregon experience, and has big dreams for the future. Their ultimate goal is to build a whitewater park and bring the 2028 Olympic Whitewater events to Gold Hill.
Combining the rugged beauty of the area with thrilling outdoor adventure and comforting food favorites, King of the Rogue is fun for the entire family. Whether you roam the Riverwalk or watch the amazing competitors, this is one day on the river you'll never forget.
Looking for something to do before King of the Rogue? Plan your adventure at www.travelmedford.org!