Are you visiting Southern Oregon or the Rogue Valley and have Crater Lake on your MUST DO list? 




Well, good because it is absolutely something everyone should see at least once. 


Like most of us we only have one day blocked out for this magnificent bucket list item. What can you do in one day? You can see A LOT of Crater Lake National Park. 


If you think Crater Lake is simply a stopover to take fabulous pics, it offers so much more than that! Hiking, biking, sightseeing, stargazing — and you can do it all.


We've compiled a list of Crater Lake's greatest hits that you can fit into one unforgettable day.
DRIVE THE RIM
The Rim Drive is a 33-mile road around the lake with over 30 pull outs which offer awesome views of Crater Lake's volcanic scenery. The drive takes about 2-3 hours, and it's one of America's most scenic byways. The full loop is usually open from early July to late October.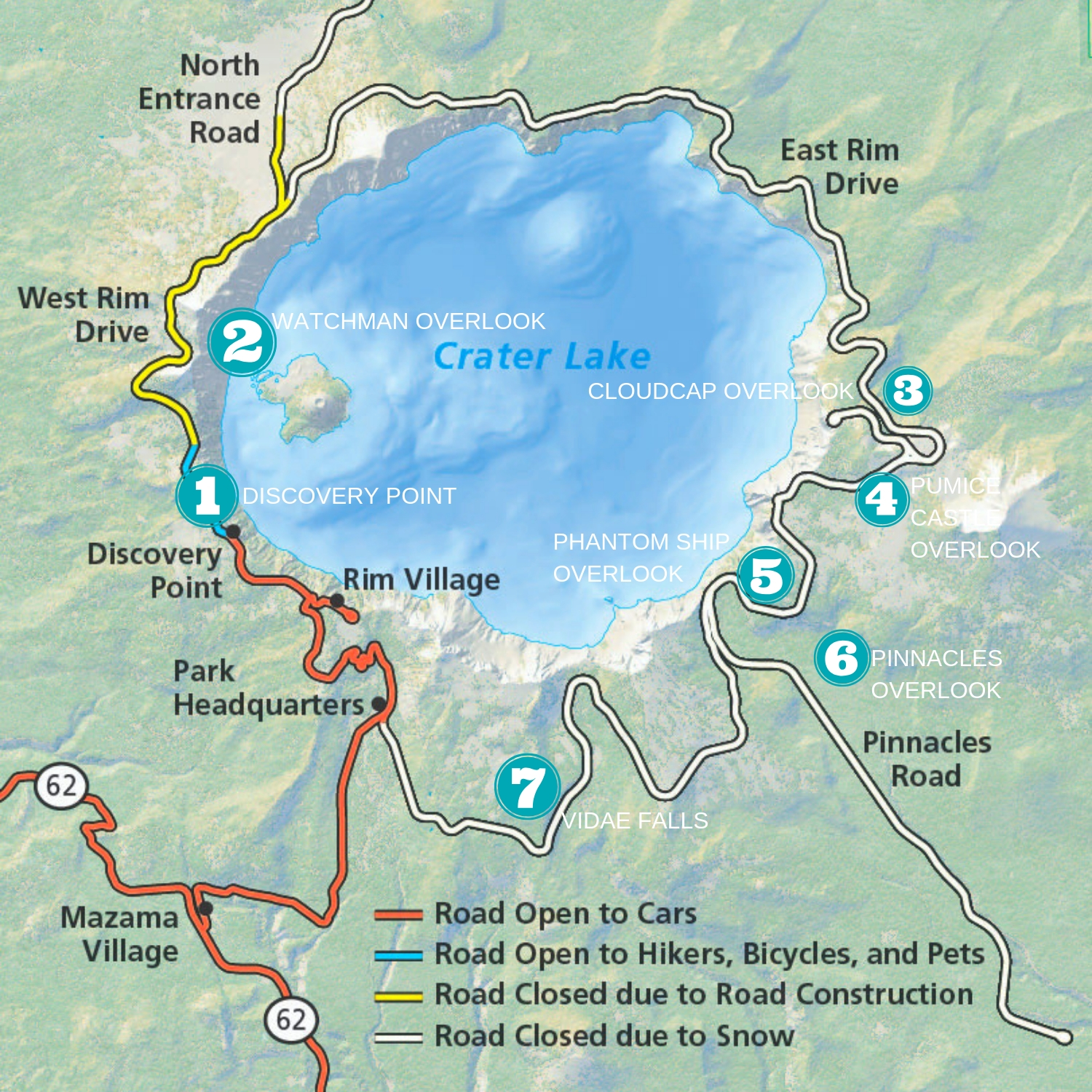 When you go, don't miss these 7 must-see stops.



1. Discovery Point


In 1853, it was near this spot that gold prospector John Hillman became the first European-American to stumble across what he called "Deep Blue Lake."



2.Watchman Overlook


This pullout offers amazing views of Wizard Island, a cinder cone that erupted out of Crater Lake over 7,300 years ago. To find the pullout, drive 3.8 miles west of Rim Village and look for a viewpoint lined with wood fences.



3. Cloudcap Overlook


This overlook is located at the end of a 1-mile spur road, the highest paved road in Oregon. 



4. Pumice Castle Overlook


See one of the park's most colorful features — a layer of orange pumice rock that was eroded into the shape of a medieval castle. Watch for the unmarked viewpoint, located 1.1 miles west of the Cloudcap Overlook junction.



5. Phantom Ship Overlook


Crater Lake's "other island" is hard to spot. While it resembles a small sailboat, the island is the size of a 16-story building! It's made of erosion-resistant lava and is 400,000 years old —  the oldest exposed rock within the caldera.



6. Pinnacles Overlook


The Pinnacles are "fossil fumaroles" where volcanic gases once rose up through a layer of volcanic ash, cementing the ash into solid rock.



7. Vidae Falls


Look for this cascading waterfall between Phantom Ship Overlook and park headquarters. A spring-fed creek tumbles over the glacier-carved cliff.