Charming, mysterious and elegant waterfalls weave in-between, around and alongside the Rogue Valley's mountains, forests and trails.
Only an hour away (or less!) from numerous waterfalls, Medford is the heart of the Rogue and the launchpad for your waterfall journey.
Whether you're drawn to the powerful thundering water, breathtaking views or glimpsing local wildlife, grab a map, your best buddy and venture out to these fantastic water features.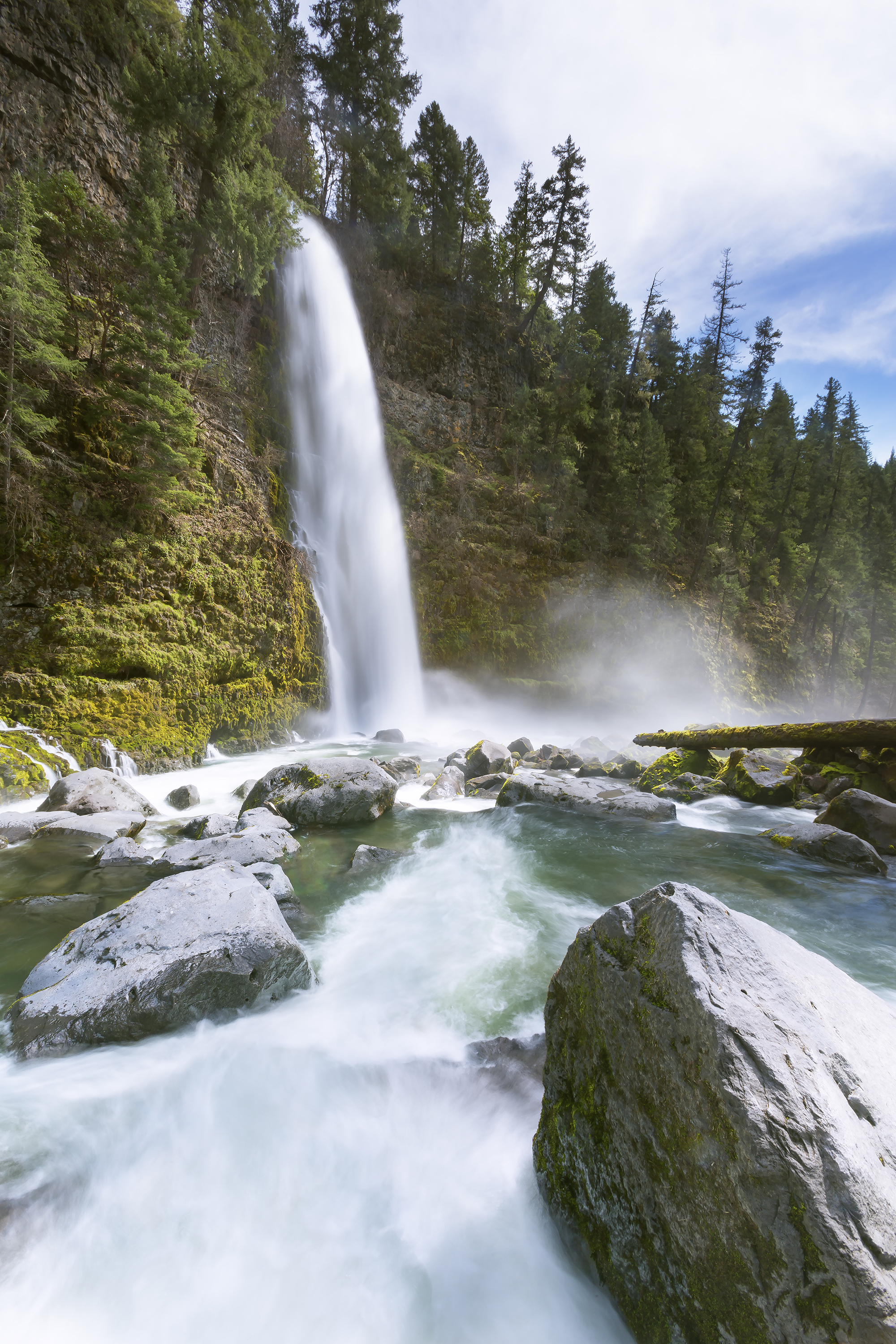 North
Mill Creek Falls - 58 minutes from Medford - Pictured to the left
In an explosive display of Mother Nature's power, Mill Creek Falls dives 173 feet into the Rogue River Gorge. Upon your arrival, enjoy an easy hike along a gorgeous, tree-lined trail that's wide enough for kids to play and explore. Mill Creek Falls is a good year round destination and located near the small town of Prospect.
Barr Creek Falls - 59 minutes from Medford
Barr Creek Falls is a unique specimen. The falls range from a strong deluge in the spring, to a lighter spritzing later in the summer. If you visit during spring, you can see Barr Falls as a double waterfall. The falls also have an interesting history. According to Oregon Geographic Names, Barr Creek was named after the presence of a cattle bar which prevented livestock from straying out of a ranch that runs along the creek.
Crowfoot Falls - 47 minutes from Medford
Crowfoot Falls offers something for the entire family. There's ample room to view the falls, wade through, and play in the water. You can also swim to Crowfoot Creek and explore the cascading pools and waterfall ledge.
Butte Falls - 47 minutes from Medford
Butte Falls is Jackson County's smallest town, complete with its own waterfall. A viewing deck overlooks the falls, and visitors can enjoy the scenery at beautiful picnic areas.
South
Chocolate Falls - 45 minutes from Medford
Chocolate Falls is located south of Ashland in the Bear Gulch valley. You can access the falls via Colestin Road, which is south of the Trashi Chöling Buddhist Center and Temple Garden. Additionally, the Pacific Crest Trail passes just north of Chocolate Falls.
WEST
Dillon Falls - 22 minutes from Medford
Dillon Falls — also known as Nugget Falls, Hatrue Falls and Tolo Falls — are rapids along the Rogue River. The Falls are a short distance from Grants Pass and located where the Rogue River funnels into a narrow channel before reaching the main drop of the waterfall, ending on a calm pool.
Whether you're an experienced waterfall hunter or simply seeking your next aquatic adventure, start your journey in the heart of the Rogue.