Unpack your hiking boots and hit the trails and parks! Nature has painted a unique setting in Southern Oregon; one that attracts locals and visitors with its enchanting beauty. Dazzling hiking trails, alluring state parks and bright sun beckon adventurers of all ages and skill levels.
Many of Medford's hiking trails are family-friendly, but still offer a challenge for experienced hikers. No Southern Oregon trail is more sought after and well-known than the Table Rocks. With two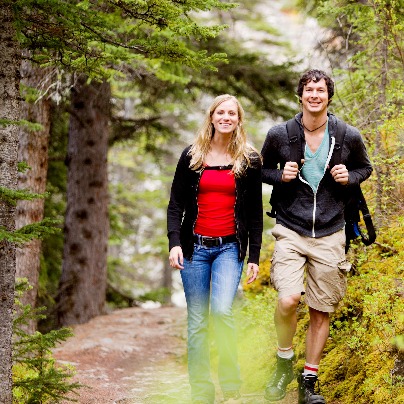 parts — the Upper and Lower Table Rock — this natural attraction is visited by over 10,000 people every year. The views from the cliffs stretch across the Rogue Valley, with a blanket of sky reaching out endlessly over the landscape. And spring is the best time to see wildflowers and birds in their natural setting.
Prescott Park is another addition to Medford's hiking and biking scene. While you're hiking one of the many trails, take advantage of the several lookout points with mesmerizing views. If your feet are ready to walk, climb and traverse, you won't be disappointed by Prescott Park, which offers 1,740 acres of hiking and mountain biking trails. A good way to break in your new hiking shoes!
Oregon also has many beautiful state and national parks, but none so alluring as those located in the heart of Southern Oregon.
Crater Lake National Park is the gemstone of Southern Oregon, with sapphire blue water, sheer cliffs and a volcanic history. At more than a mile in depth, Crater Lake is the deepest lake in North America. It's truly the experience of a lifetime.
If you want to make a day of visiting the Table Rocks, take a trip to the TouVelle State Recreation area. Located near the Rogue River and at the bottom of the Table Rocks, it's the perfect area for family picnics. The 58-acre park is brimming with trails and opportunities for a spontaneous fishing trip.
The sounds, sights and smells of the outdoors refresh the soul. When you're seeking the ultimate adventure, Medford answers the call.