By Travel Medford | 05/04/2020 | Wine
Raise A Glass To Oregon Wine Month!
An entire month celebrating wine? Yes, it's true! And the whole state of Oregon is joining in on the festivities. If you love wine, great food and fun, join us for Oregon Wine Month and enjoy celebrations all across the state.
Rogue Valley wine history goes back to the 1840s when European immigrants started planting grapes and bottling wines. In 1852, settler Peter Britt began growing grapes and later opened Valley View
Winery — Oregon's first official winery — in 1873. Valley View closed in 1907, and then Prohibition began. It wasn't until an Oregon State University professor planted an experimental vineyard here in 1968, that winemakers rediscovered the Rogue Valley as a winegrowing region. The rest, as they say, is history.
In the 1930s, John Wood and Ron Honeyman of Salem were part of a group of Oregon entrepreneurs who received bonded winery status after the 18th Amendment — which established Prohibition — had been repealed. They founded Honeywood Winery, which is Oregon's oldest continuously operating winery.
Later, Hillcrest Vineyard ushered in the modern era of Oregon winemaking. They planted the first viniferous grapes near Roseburg, as Oregon's first estate winery.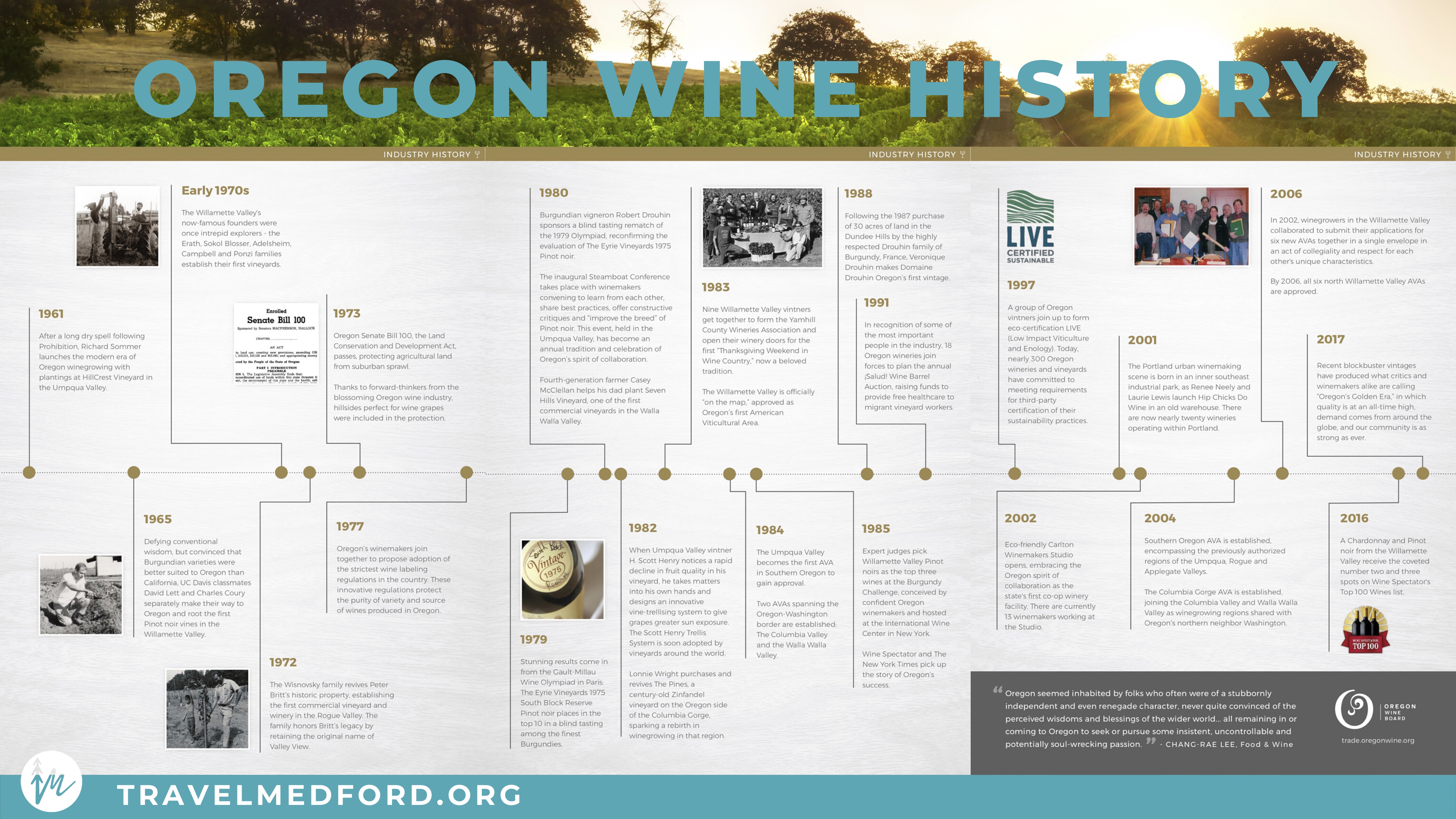 Oregon vineyards proudly offer wines that are cultivated with care and compassion. They have also achieved many credentials which are well-respected in the wine industry.
OREGON TILTH CERTIFIED ORGANIC
Many Oregon wineries are certified organic. Oregon Tilth has been a leader in certification since 1974 and is an internationally-recognized organization of organic farmers, gardeners and consumers. This group is dedicated to biologically sound and socially equitable agriculture.
SALMON-SAFE
Founded in 1995, Salmon-Safe is one of the nation's leading regional eco-labels. Erosion and runoff from hillside vineyards can bring silt into streams and harm native salmon species. That's why Salmon-Safe partnered with LIVE, VINEA and Oregon Tilth to work with growers to protect Oregon's salmon watersheds. Salmon-Safe has now certified 110 Oregon vineyards. If you buy wine with a Salmon-Safe label on it, your purchase is keeping rivers clean so that salmon can spawn and thrive.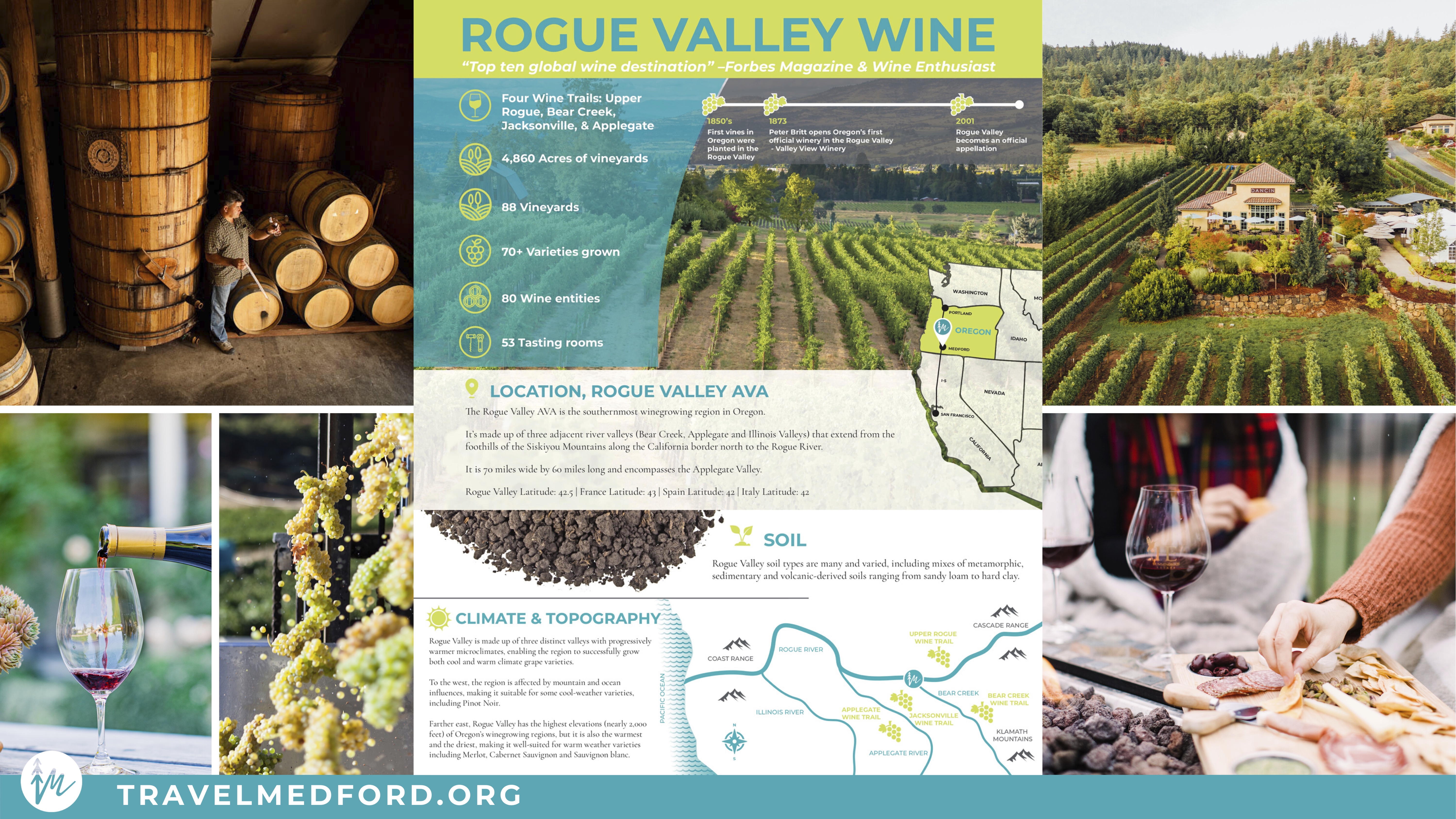 The Rogue Valley produces a multitude of different wines. Our warmer climate grapes produce Merlot, Cabernet Sauvignon, Malbec, Syrah, Tempranillo and Viognier. We also have cooler climate varietals that include Oregon's famous Pinot Noir, Sauvignon Blanc and Chardonnay. The Rogue Valley has a varietal for everyone!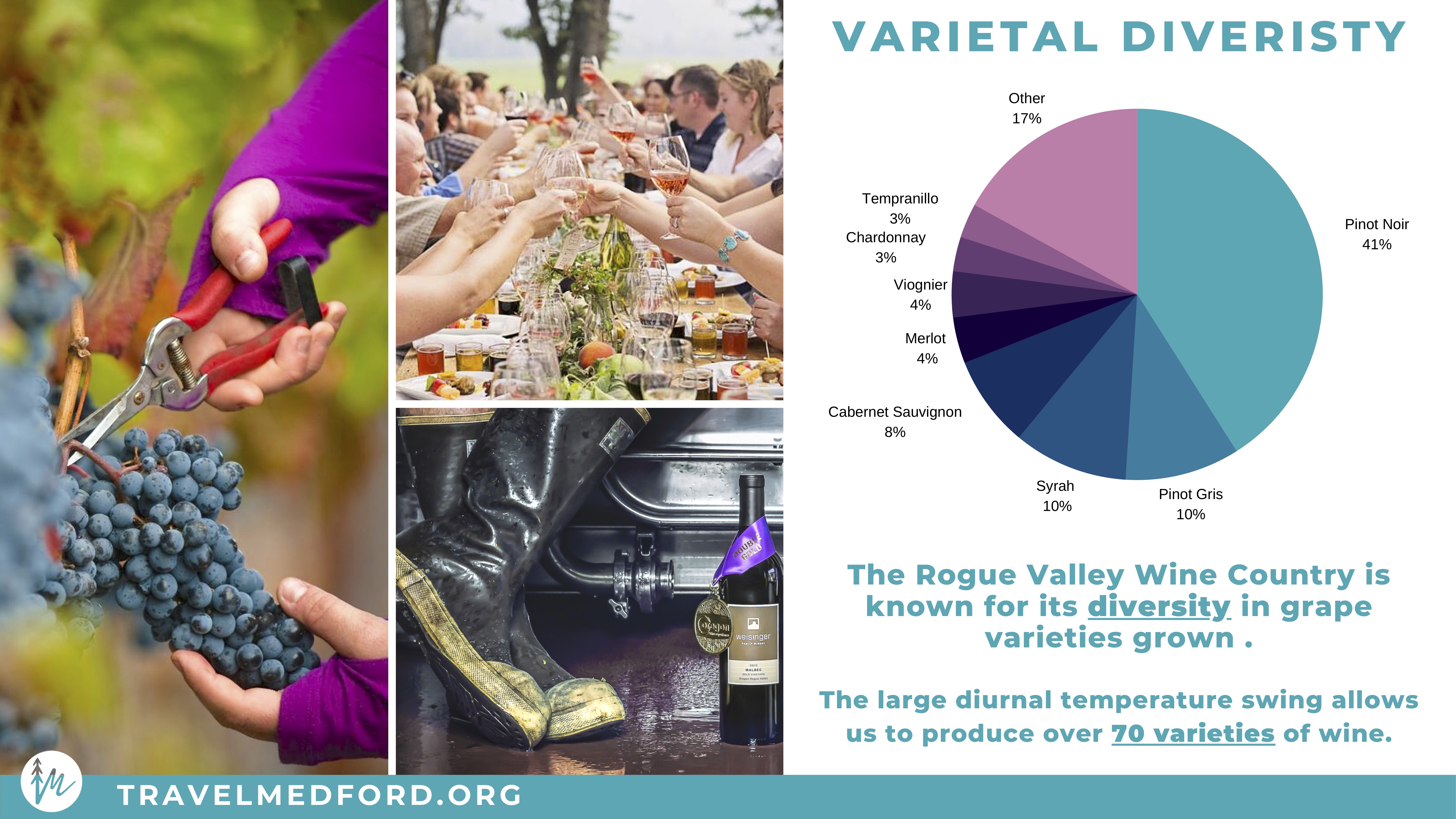 And now, let's talk about Oregon Wine Month — a wine celebration that spans the entire state! Each May, Oregonians and visitors alike enjoy a month of wine tasting, learning and more. You can experience the quality and diversity of Oregon wine through many fun events, even after Oregon Wine Month ends. Have you visited all of our Rogue Valley Wineries? Now, there's a wine month challenge!