Everyone's hometown has those special secrets that only the locals seem to know, including Medford. Well, today is your lucky day because we're sharing those secrets with you.
Want to know the inside scoop about Medford? Check out this list!
1. We Have A Volcano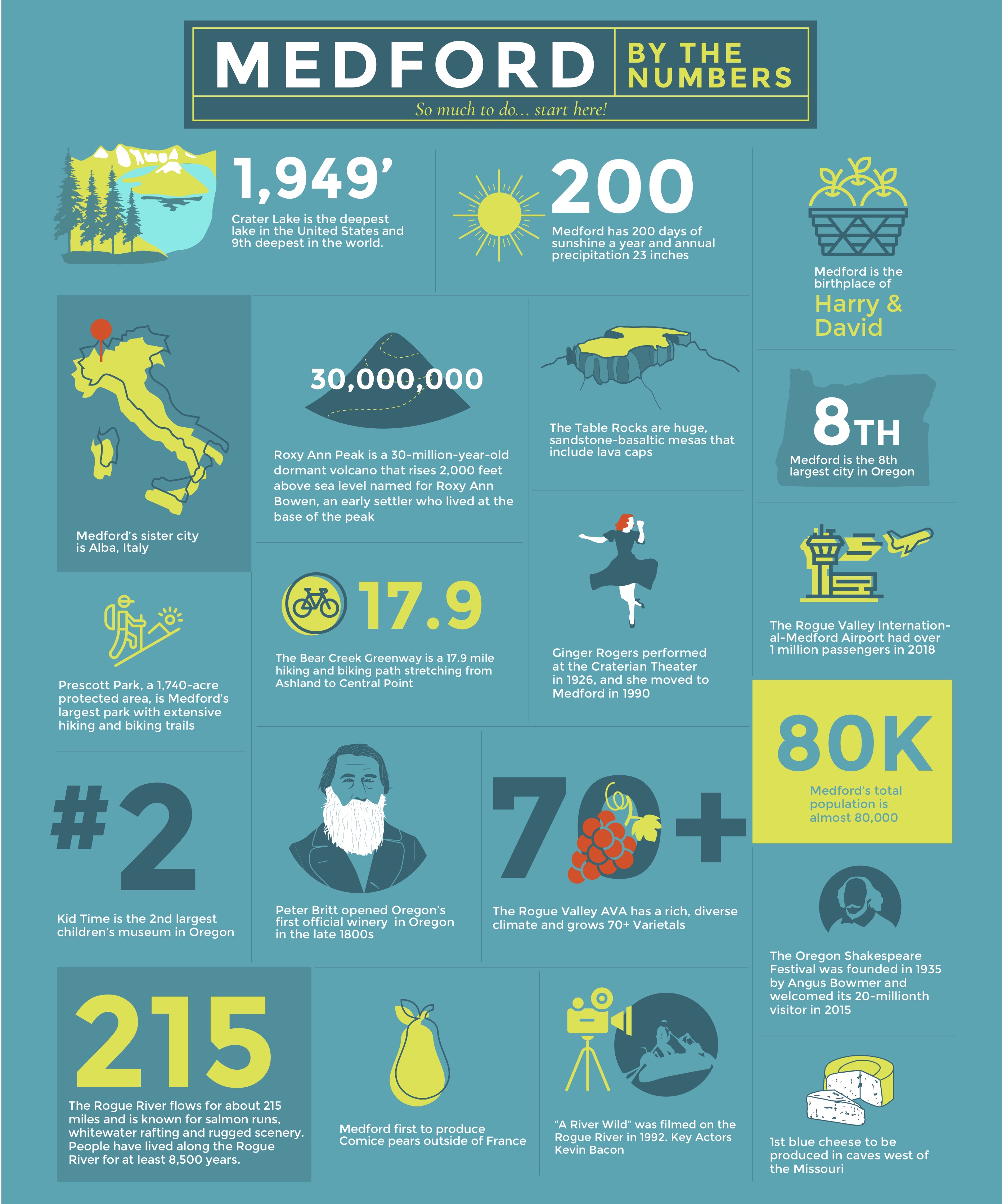 Roxy Ann Peak is a 30-million-year-old dormant volcano, named for Roxy Ann Bowen, an early settler who lived at the base of the peak. It rises almost 2,000 feet above sea level and is found in Medford's Prescott Par
2. Home To Famous Actors In 1926, the beautiful and elegant Ginger Rogers performed at the Craterian Theater. In 1990, she moved to Medford, where she spent her summers.
3. Yes, He's Real Do you believe in Bigfoot? Then we have good news! Bigfoot has made appearances throughout Southern Oregon, including Medford.
4. Rolling On The River The Rogue River is one of the valley's most stunning features. Medford offers several ways to enjoy the river, from rafting to fishing and much more. Also, the famous "A River Wild" was filmed on the Rogue in 1992. Our river is a movie star!
5. What's In A Name Medford was named in 1883 by David Loring, a civil engineer and right-of-way agent for the Oregon and California Railroad. He named it after Medford, Massachusetts, which was near his hometown of Concord, Massachusetts.
6. Books, Books And More Books A generous donation from Andrew Carnegie allowed a dedicated library to be built within the city. Construction of the Medford Carnegie Library was completed in 1912.
7. Big, Beautiful Crater Lake The collapse of Mount Mazama formed a caldera that holds Crater Lake.
8. A Heavenly Sight In the late spring and early summer, the snow on Mount McLoughlin melts into a formation called the "angel wings", which Native American tribes interpreted as an osprey, a sign of the beginning of the salmon run.
9. Explore Our History The I.O.O.F Eastwood Historic Cemetery was established in 1890, and sits on 20 acres north of Bear Creek Park. It includes the graves of many famous former Medford residents, including Harry and David. The Parks and Recreation Department offers free tours of the cemetery.
10. Medford In The Movies In the 1944 movie "Double Indemnity", the fictional character Mr. Jackson said, "I'm a Medford man – Medford, Oregon. Up in Medford, we take our time making up our minds."
11. Famous Faces At age seven, Lisa Rinna and her family moved to Medford, and she spent the remainder of her childhood here. She graduated from Medford Senior High School in 1981.
12. Family Friendly Kid Time is the second largest children's museum in Oregon. Let the games begin!
13. World Famous Pears Medford is the first place to produce Comice pears outside of France.
14. First Winery In Oregon Peter Britt opened Oregon's first official winery in Southern Oregon in the late 1800s.
15. World's Best Cheese Rogue Creamery started as a small cheesemaker in Southern Oregon, and they're now the world champion of cheese. During the 2019 World Cheese Awards in Bergamo, Italy, judges named the Creamery's Rogue River Blue Cheese the World's Best Cheese! They won this prestigious title after judges tasted 3,800 different types of cheese from 42 countries.