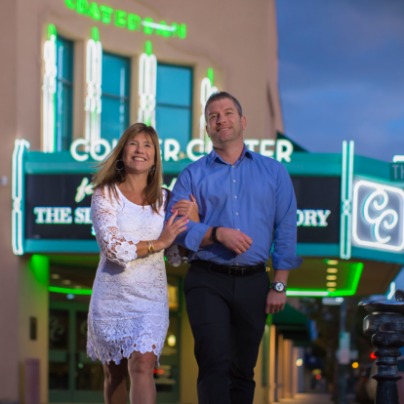 Downtown Medford is a mecca for theater-lovers and foodies. Feed your mind, body and soul, and experience the thrills of downtown — all within walking distance!
Great performances are a cornerstone of Medford's downtown core. The Craterian Theater is the Rogue Valley's premier live performance venue. Enjoy everything from ballet, to professional acrobatics, the local symphony and performances from famous musicians. As a cultural focal point of downtown Medford, every performance will amaze you.
We guarantee you'll return for an encore.
When you're ready to eat, The Rogue Grape is a new addition to downtown Medford and located across the street from the Craterian. This classy wine bar showcases fine local wines with their rotating wine list, and also uses locally sourced dairy, meat and produce for their small plate menu. Their relaxing and inviting location allows you to discover Southern Oregon wines in the heart of downtown Medford, and maybe find your new favorite wine!
But the fun doesn't end there for theater fans. The Randall Theatre Company has a jam-packed season of stage plays and musicals. If you make a last-minute decision to see a show, the Randall Theatre allows you to pay what you want at the door for seats that remain unsold 30 minutes before showtime.
Your fabulous culinary journey also continues, with a variety of restaurant options near Randall Theatre. Porters Dining at the Depot is a fine dining restaurant and bar built inside a 1910 former train station. Porters serves up American classics with a modern twist in the heart of downtown Medford. Their cuisine honors local and seasonal ingredients, and seamlessly blends simplicity and elegance on the plate. If you're craving a steak dinner, prime rib, shrimp scampi or craft cocktails, then we'll see you at the depot!
Of if you're craving international fare, then stop in to Habaneros Mexican Restaurant. Locally owned since 1986, Habaneros brings the flavors of Mexico to downtown Medford. All of the food is made fresh daily, with distinctive sauces and salsas that highlight the tastes of traditional Mexico. It's a Mexican fiesta in the middle of Medford!
As you stroll the friendly streets of downtown Medford, there are ample choices for fabulous food and drink. Downtown Medford has everything your heart desires for local theater, food and drink. Plan your downtown adventure at www.TravelMedford.org.