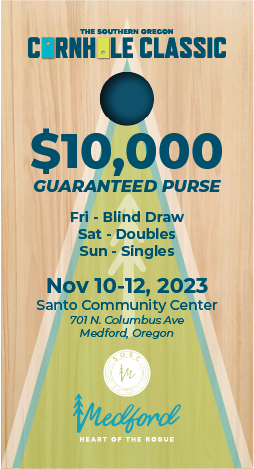 The Southern Oregon Sports Commission is excited to host the 2nd Annual Southern Oregon Cornhole Classic, sporting one of the largest tournament payouts in the state with a guaranteed purse of $10,000!
Friday – Blind Draw ($10) | Saturday – Doubles ($100) | Sunday – Singles ($50)
Each tournament begins with a pool play/round-robin (6 games for doubles, 4 games for each Blind Draw & Singles), which will seed you into the upper (pro/advanced), middle (competitive) or lower (novice/backyard) division. Then a double-elimination tournament begins until a winner is crowned.
Top 3 places are paid for Upper and Middle Division, Lower Division will receive prizes. (Must bring your own doubles partner.) Bags can be provided if you don't have any free of charge. Spectators are encouraged to attend and there is no cost to watch. There will be food and alcohol for sale during the event as well as air mail contest and a raffle. This tournament is a non-profit fundraiser for the Southern Oregon Sports Commission (SOSC) and is presented by SOSC, Travel Medford and Southern Oregon Cornhole.
The tournament's host city of Medford, OR is located along I-5, roughly 35 miles north of the California boarder, and offers a fantastic mix of beautiful Oregon scenery, hotels, restaurants, and more! We know that you'll enjoy the event so much that you'll joins us again in February of 2024 when Medford hosts it's very first American Cornhole Organization Major! We look forward to hosting you in beautiful Southern Oregon!