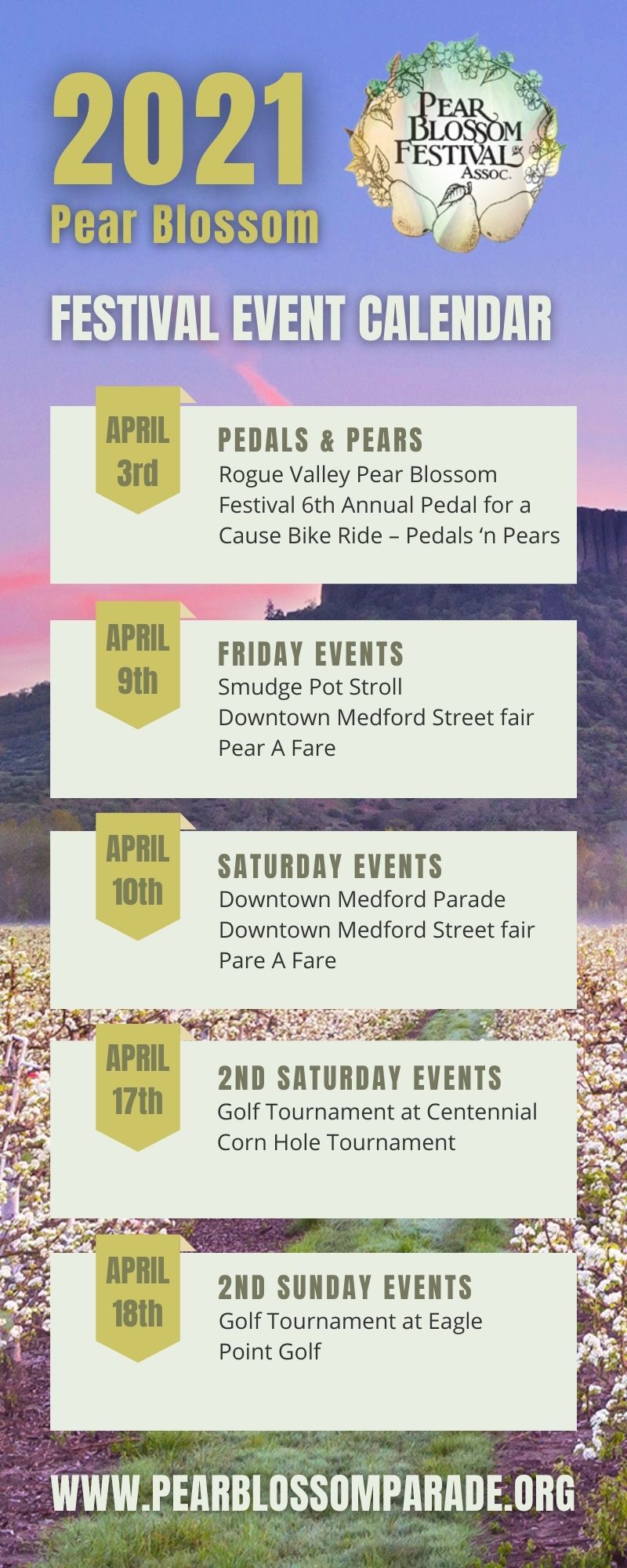 The Pear Blossom Festival has added many events over the past six decades. Whether you peruse the vendors at the Street Fair, indulge in a walking and tasting tour at the Smudge Pot Stroll, watch the parade go by in Downtown Medford, golf in
the tournament or test your endurance in the Pear Blossom Run, there's never a dull moment.
With so many activities to choose from, you will spend every minute of the festival weekend discovering something new!
Street Fair
April 9-10, 2021
Friday, 12 noon - 10 p.m.
Saturday, 7 a.m. - 6 p.m.
Downtown Medford
Pear Blossom Parade

April 10, at 11 a.m. in Downtown Medford
This is the Rogue Valley's largest parade and it has grown into a huge event from its humble beginnings. Starting with a small group of young kids, the parade now has 4,000 participants. The parade starts at Beatty & Central, goes down Central Avenue, turns right onto West Main Street and starts dispersing at Mistletoe. Make sure to arrive early and secure a good spot!
Pear A Fare
Friday, April 9, 3 p.m. - 10 p.m.
Saturday, April 10, 10 a.m. - 5 p.m.
The Pear A Fare celebrates the flavors of the Rogue Valley, with local vineyards, breweries, distillers, and artisan food makers serving samples and selling their wares. Tasting glasses and tickets will be for sale at the Pear A Fare entrance. Admission is $5 and includes five tasting tickets — and kids 5 years old and younger are free! Vendors will also have wine, beer, coffee, and other local drinks available for sale by the glass.
Smudge Pot Stroll
Friday, April 9th, 2021 5 p.m. - 9 p. m.
Opening night of the Pear Blossom Festival is a special evening in downtown Medford. 350 tickets will be sold for a walking and tasting tour around downtown Medford. With each ticket, you will receive a wine glass and a pass to sample a taste of specially prepared pear and local food themed items. With 13-15 downtown restaurants participating, the ticket holders will stroll with glass in hand, to sample the specialty creation of each chef. The stroll begins at 5pm and concludes at 9pm. With all that great food, stretching the legs, walking the downtown, listening to music at the Pear Blossom stage, it will be THE evening event of the year for downtown.
The cornhole tournamentreturns for its second year! Try your hand at this beloved outdoor sport at the Doubles Tournament on April 17th. The first place prize is $1,000, so you won't want to miss your chance to win big. For more information on how to register, email pearblossom@pearblossomparade.org.