Congratulations to Southern Oregon Sports Commission's Top Male and Female Athletes of 2017, Jessa Perkinson and Jaylin Parnell, as well as this year's Sports Advocate, B.G. Gould, and Spirit of Competition recipient, Dan Bulkley. The event also showcased the Mail Tribune's Top 10 Sports Stories of 2017. All proceeds go toward SOSC's efforts to enhance sports tourism and enrich quality of life by promoting sporting events in Medford & the Rogue Valley.
2017 Top 10 Sports Stories & Awards Banquet
Thursday, February 8th, 2018
Click to View All Athlete Nominees

Sports Advocate, B.G. Gould
The Southern Oregon Sports Commission honored B.G. Gould as its Sports Advocate of 2017. Beeg has been a fixture at football, basketball, baseball and softball games since moving to the Valley in 1967. He has worked for the Medford School District since 1986 compiling statistics for coaches and the media. Additionally, Beeg has worked for several college and semi-pro teams.
The Spirit of Competition Award - Dan Bulkley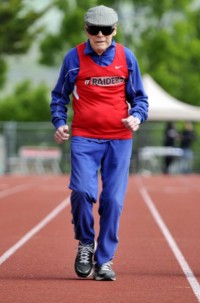 The Spirit of Competition Award honors an athlete who inspires others by overcoming adversity, demonstrating extraordinary sportsmanship or through enduring commitment to a chosen endeavor. Dan Bulkley is a former Southern Oregon University track and cross country coach who recently turned 100. Starting at age 70, he earned 492 medals in masters competitions and set numerous world age-group records.